The bulletproof helmet NATO PASGT type ST-4
The ST-4 helmet is designed to provide ballistic protection for the fighter's head during interventions in maximum risk situations. The 4-points fastening system allows for easy adjustment on the head.
The shock absorbing system inside the helmet consists of 7 cushions that also provide a good air-flow inside the helmet and a very good comfort.
All the helmet parts that come in contact with the human skin are non-allergic and don't cause any discomfort or health problems to the user.
The helmet, on the inside, has a printed label with the manufacturer name, helmet type, size, serial number and manufacturing date.[/vc_column_text]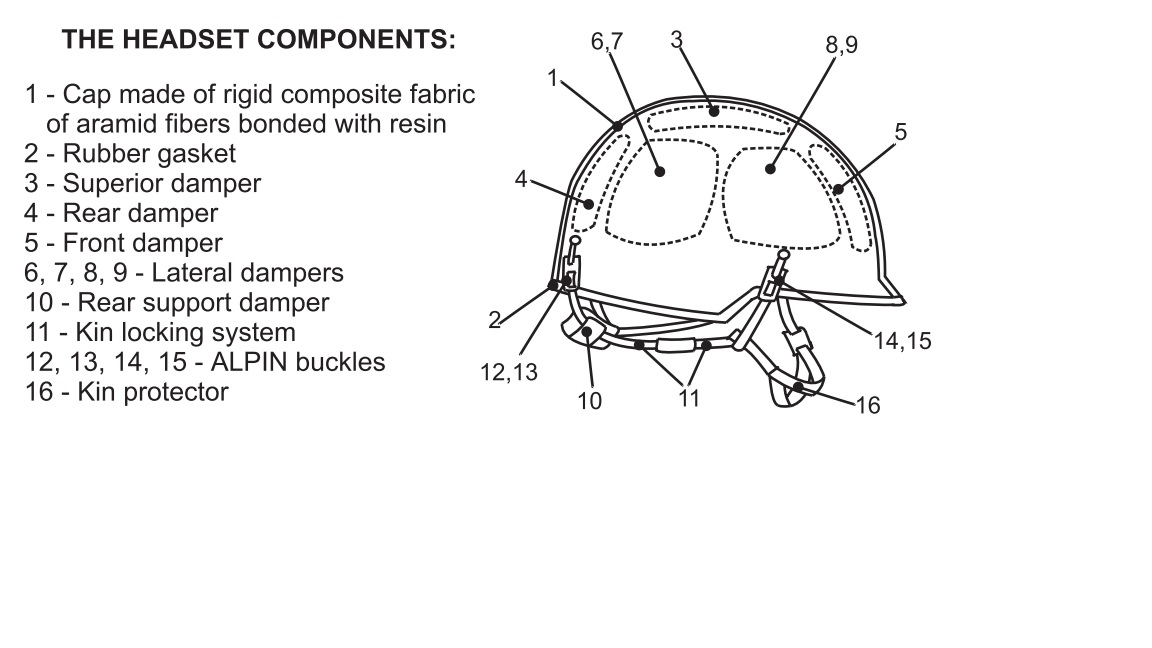 THE HEADSET COMPONENTS:
1 – Cap made of rigid composite fabric of aramid fibers bonded with resin
2 – Rubber gasket
3 – Superior damper
4 – Rear damper
5 – Front damper
6, 7, 8, 9 – Lateral dampers
10 – Rear support damper
11 – Kin locking system
12, 13, 14, 15 – ALPIN buckles
16 – Kin protector
Protection level
IIIA according to NIJ 0106.01 IIIA or NIJ 0101.6.
Characteristics
Closure system in 3 or 4 points
Fixture system on the chin
Removable interior system for shock damping, with contact in 7 points
Color: black, green, beige
Transport and storage bag
Weight: 1,4 ± 0,05 kg
Warranty
5 years of use
10 years in storage