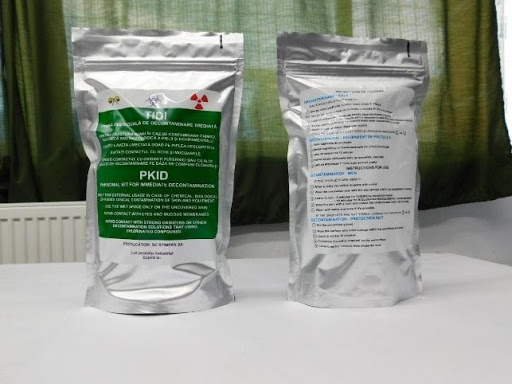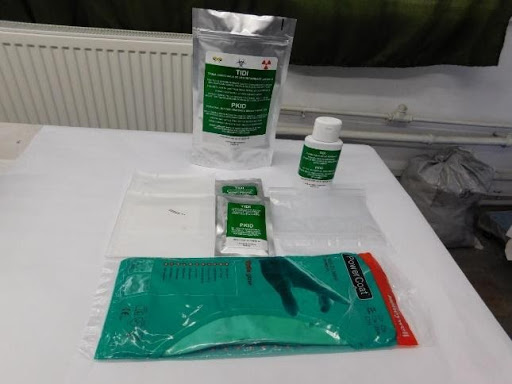 Basic product definition
TIDI is based on an amino alcohol solution with a multipurpose decontamination effect, used for both the decontamination of exposed parts of the skin and for the decontamination of the affected parts of the equipment and armament provided by the military. The solution is impregnated on a chemical inert, adsorbent, cloth-type support made of non-woven polypropylene fibers. The cloth moistened with decontamination solution is packed in an envelope made of aluminized foil, to preserve its characteristics, it has protection against solar radiation, sudden temperature variations and contact with air.
The kit contains two such envelopes, one for skin decontamination, the other for decontamination of protective equipment and individual armament.
Main component list:
Immediate decontamination individual kit (IDIK):
Versatile solution for decontamination of skin and equipment impregnated in non-woven polypropylene fiber cloth, packed in an envelope made of aluminized foil – 2 pcs;
High adsorption activated carbon packed in HPDE bottle – 1 pc
Package with sterile gauze – 2 pcs;
Packed nitrile gloves – 1 set;
Polyethylene bag with zipper for contaminated waste – 2 pcs;
Zippered packaging bag, made of aluminized foil – 1 pc
Self-adhesive labels with instructions for use.
The immediate decontamination individual kit (IDIK) is intended for military personnel from all categories of military forces and for personnel involved in emergency response, in order to conduct and support operations in an environment presumed to be contaminated with CBRN. The product will ensure the chemical, biological and radio-logical decontamination of the exposed surfaces of the body, equipment, armament and materials of strict necessity in the endowment of the combat personnel.